Quite simply, we're the experts.
Our regular massage service provides a consistently high-quality experience to bring massage to the mainstream.
The customer journey takes the best of the spa experience combined with the effectiveness of expert massage therapy.
Convenience is crucial: we make it easy for customers to come – at the right time for them – knowing that they are going to receive excellent service every single time.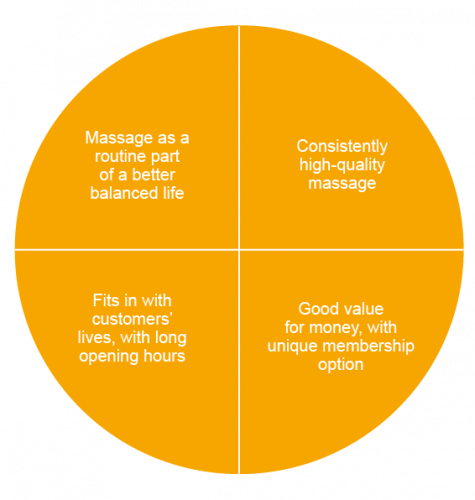 The Massage Company sits within the Health, Beauty and Wellness industry. The Health and Wellness sector is predicted to be worth £5.9bn in the UK in 2023.
(Source: IBISWorld)
Who are our target customers?
We have four key target groups. They have an understanding of how massage can help them, and would all welcome making it a regular part of their lives.
Those who know they would enjoy the benefits of regular massage, but haven't felt they could afford it.
Those who need massage for medical, rehabilitation or therapeutic reasons and currently see massage as a necessity.
Those who've experienced massage as a treat / gift and would love it more often.
Those who've never had a massage before, whether due to finances or feeling it's an unjustifiable indulgence.
TMC centres are safe and reassuring places to be, with a warm welcome to relax customers, whatever their age and stage. Expert-trained therapists, heated massage beds and premium-quality organic oils ensure a consistent experience.
We offer a range of high-quality massages, all available at a time to suit every customer due to our long opening hours, 7 days per week.
Each of our massages can be upgraded to further enhance effectiveness by adding Hot Stones, Aromatherapy, a Scalp Massage or the 'Fantastic Foot Treatment', which is unique to The Massage Company.
The concept of regular, accessible, massage for the mainstream was developed by TMC from an intricate knowledge of the spa industry. With over 25 years operating in this arena, founders Charlie Thompson and Elliot Walker spotted the gap in the market. There is an explosion in treatment and wellness: their passion is to bring massage to the mainstream, and to grow the market.
Leveraging their high level networks of suppliers and sales partnerships, Charlie and Elliot developed The Massage Company, opening their first centre in Camberley in 2016. The dynamic team has grown to support the growth of the business.
National Operations Manager
Director of Massage Training
Find out more about The Massage Company
Complete your details below and we'll send you our franchise prospectus, with more details about the business and opportunity to book a call.